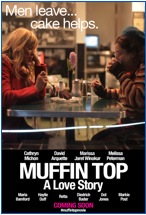 Movie Screening Benefits Women Who Write
We've organized a special screening of the new movie, Muffin Top: A Love Story (https://www.tugg.com/events/13167), as a benefit for our group. If you live in the Louisville area, mark your calendars for Wednesday, Feb. 25, and head to Cinemark Theaters at Mall St. Matthews. Doors open at 7 p.m. for fun and prizes; film rolls at 7:30 p.m.
Muffin Top is the kind of hilarious romantic comedy that happens when women write and direct movies. The film has a higher percentage of women behind and in front of the camera than any other movie in the past three years. It's time to put the chicks back into flicks.
Check out the star-studded cast:
• Marissa Jaret Winokur (Tony winner in Hairspray)
• Diedrich Bader (Drew Carey Show)
• Melissa Peterman (Barbara Jean in Reba)
• David Arquette (of Scream fame, aka the former Mr. Courtney Cox)
• Dot Marie Jones (Glee)
The movie has the first all-female soundtrack in rom-com movie history. The song "Beautiful," by award-winning artist Michelle Featherstone, is featured in the trailer and the film. The song succeeds in underscoring the all-too-familiar yearning for self-acceptance.
Cathryn Michon, director and star, wrote the film with her partner and husband, W. Bruce Cameron (author of 8 Simple Rules for Dating My Teenage Daughter, A Dog's Purpose, and the new The Midnight Plan of the Repo Man).
Join us for night of fun in support of local women writers. Here's the link to the Facebook Event: Muffin Top: A Love Story Movie Screening. If you click on the "Invite" button at the top you can invite your friends as well. This is a public event—open to women and men. Please, please, please, invite your friends, and share on your Facebook page, Twitter, personal website, etc. And remember: when you purchase your ticket online at https://www.tugg.com/events/13167, please give a generous donation to Women Who Write.
Our thanks to WWW member Bonnie Jean Feldkamp for coordinating this event.
RESERVE YOUR TICKET