Mar 24, 2018 | 8:30 am - 4:30 pm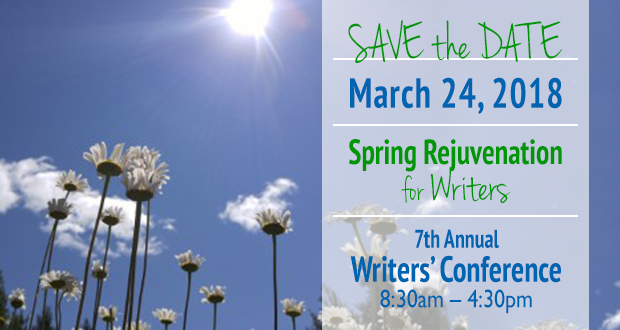 WOMEN WHO WRITE
SPRING REJUVENATION 7th ANNUAL CONFERENCE
How to Get My Words Out to the World
CELEBRATING 25 YEARS
SATURDAY, MARCH 24, 2018
It's time for Spring Rejuvenation! Join us at our 7th annual conference as Women Who Write celebrates 25 years! Our conference will be held on Saturday, March 24, 2018. In response to favorable feedback on last year's venue, we are excited to be able to return to the Purdue Research Park of Southeast Indiana, Purdue Polytechnic New Albany, 3000 Technology Avenue, New Albany, IN 47150. This year, our workshops and publishing panel will focus on research and residencies, and explore various paths to publication. The morning keynote, former Kentucky Poet Laureate George Ella Lyon, will awake and inspire us with "She Persisted: How and Why." We'll be rejuvenated right after lunch with Hannah Drake as she delivers "Write It Afraid." Once again, plenty of time will be allocated for personal writing time. A bonus this year is an opportunity for a pitch session with Alice Speilburg, a local founding literary agent at Speilburg Literary Agency, for a nominal $15 additional fee. See below for registration information and schedule of events. Our conference is open to all genders and genres. Space is limited. Hope to see you there!
Register now using the form below!
Pre-registration with Lunch Selection by

March 20th
Schedule of Events
Purdue Research Park of Southeast Indiana, 3000 Technology Avenue, New Albany, Indiana
8:30 – 9 AM
Registration with Continental Breakfast
9 – 9:45 AM
Morning keynote – George Ella Lyon, "She Persisted and Why"
9:45 – 10:00 AM
Break
10:00 – 11:00 AM
Residencies and Resources
Debbie Chartoff – Artist-in-Residence Program at Woodstock Byrdcliffe
Jenrose Fitzgerald – The Kentucky Foundation for Women.
Amanda Langdon – LFPL Collider Artist-in-Residence Program
11:00 – 11:45 AM
Personal writing time and optional writing prompts
Pitch sessions with Alice Speilburg (Additional $15)
Note: If you wish to participate in the pitch sessions, please choose that seat option in the registration form below
11:00 AM-12:30 PM
Book fair with WWW members and publishers
11:45 AM-12:30 PM
Lunch – catered by McAlister's Deli, included with registration
12:30 – 1:15 PM
Afternoon keynote – Hannah Drake, "Write It Afraid"
1:15 – 1:30 PM
Break
1:30 – 2:25 PM
Paths to Publication panel with local publishers:
Butler Books – Carol Butler
Holland Brown Books – Gill Holland
Sarabande Books – Kristin Miller
Today's Publications – Tiffany White
2:30 – 3:15 PM
Workshops, personal writing time, pitch sessions
Workshop 1 – Cheri Powell – Path to Self-publishing
Workshop 2 – Susan Lindsey – Top Tips to Improve Your Writing
3:15 – 3:30 PM
Break
3:30 – 4:30 PM
Reception, Recognition and Readings
Bios and Workshop Descriptions
George Ella Lyon is the author of four books of poetry, a novel, a memoir, a short story Poems and Voices from the March on Washington, co-written with J. Patrick Lewis. Lyon served as Kentucky's Poet Laureate (2015-2016). In her keynote address, "She Persisted: How & Why," Lyon will examine how she kept going despite eleven years of rejected poetry collections. She will look at the mechanics of persistence, available technical and spiritual resources, and ways we can help each other.
Hannah Drake is an author, poet, activist and storyteller. Her powerful, inspirational message has been heard in arenas around the world while opening for various prominent people such as Angela Davis, Nikky Finney, Iyanla Vanzant, and Judge Gregory Mathis. She has served as a presenter at Ideas Festival and as a panelist with CNN chief national correspondent, John King. In her keynote address, "Write It Afraid," Drake will cover writing in the center of controversy, cover steps on why to write through fear, and how to produce writing that challenges the writer and reader. It's okay to be afraid!
Alice Speilburg is the founding literary agent at Speilburg Literary Agency and has worked in publishing since 2008. She is a member of Mystery Writers of America, Romance Writers of America, and Society of Children's Book Authors and Illustrators, and she is a board member of Louisville Literary Arts. She is currently building her client list and represents narrative nonfiction and commercial fiction for adult and YA readers. For more information, please visit the agency website: http://speilburgliterary.com or connect with her on Twitter @AliceSpeilburg.
Debbie Chartoff attended the Summer 2017 Artist-in-Residence Program at Woodstock Byrdcliff Guild. She will share her four-week experience of communal living among various artists in one of the earliest utopian art colonies in America. Chartoff was awarded first place in the Institute of Children's Literature holiday contest, and has been published in Pockets. Her love for travel led to years as a consultant and as a writer for an on-line publication.
Jenrose Fitzgerald is a singer/songwriter and multimedia artist who believes wholeheartedly in the transformation power of art. She is the Grant Program Manager for the Kentucky Foundation for Women, an organization that promotes positive social change through varied feminist expression in the arts. Fitzgerald will discuss the residency program and grants offered through the Foundation.
Amanda Langdon is the Programs Coordinator for the South Central Regional Library and manages the COLLIDER program. Langdon will explain the Louisville Free Public Library's first and only Artist-in-Residence Program offered at the South Central Regional Library, its application process, and required expectations as a way of giving back to the community. Langdon also develops, plans, and facilitates innovative and engaging programming for adults and families in the area.
Carol Butler co-founded Butler Books with her late husband, Bill in 1989 and now serves as its President and CEO. She is an attorney and executive editor who also has over 20 years' experience as a professional project and event director. Butler previously served as a Special Assistant to the Mayor of Louisville and as a Special Assistant to the President and Director of Special Projects and Events at the University of Louisville. In 1981, she was appointed as the first woman to serve as General Counsel to Kentucky Governor John Y. Brown, Jr.
Gill Holland of Holland Brown Books is a creative entrepreneur, inventor of the word NuLu, and community builder who likes producing movies, music and books. Holland Brown supports local authors and the community with publications such as Parks for the People, Wander Louisville, and The Bluegrass Hall of Fame.
Kristen Miller is an editor and Director of Educational Programming at Sarabande Books. She founded Sarabande Writing Labs in 2014, an arts-education program that supports writers in under-resourced communities through free workshops, literary events, and publication. Miller's writing and translations have appeared in various publications such as Poetry, Guernica, The Offing, Colorado Review and more. She is the recipient of fellowships from Vermont Studio Center and Blackacre Conservancy.
Tiffany White is the editor of Today's Woman and Today's Transitions, a quarterly magazine for older adults and caregivers. Tiffany started her career in journalism 22 years ago as a freelance writer who wrote for Today's Woman magazine, The Courier-Journal, Business First, and the Louisville Visual Art Association. She has been an editor with Today's Publications, LLC for 15 years. Tiffany enjoys running, reading and spending time with family and friends.
Cheri Powell is a published author by adventure to Seven Tips to Make the Most of the Camino de Santiago. Having walked the 500-mile pilgrimage in northern Spain twice, Powell decided to assist other pilgrims in their journey. Her second book, Marketing Your Book Using the Internet, assists writers to learn marketing strategies after publication. In addition to working as a Computer Analyst for 20 years, Powell also taught English as a Second Language in Belize and Mexico, and business in Africa in the Peace Corps. Her workshop, "Path to Self-publishing," will define what self-publishing has become and explore how aspiring writers can find the technology and/or publisher that fit their writing goals. Participants will outline the steps needed to prepare a manuscript for publication and the tasks which await once your book is in print.
Susan E. Lindsey is a published author of several essays and short stories, and has recently completed a full-length nonfiction manuscript. Her company, Savvy Communications LLC, launched in 2010, offers editing and other services to writers and publishers. Lindsey is a former director of Women Who Write, and previously worked in corporate communications and public relations for nearly 20 years. In her workshop, "Top Tips to Improve Your Writing," Lindsey will share tips on the nitty-gritty of writing gleaned from her years of editing and will recommend online an print resources for writers.
Registration