Oct 19, 2019 - 10:00 am
Prospect, Kentucky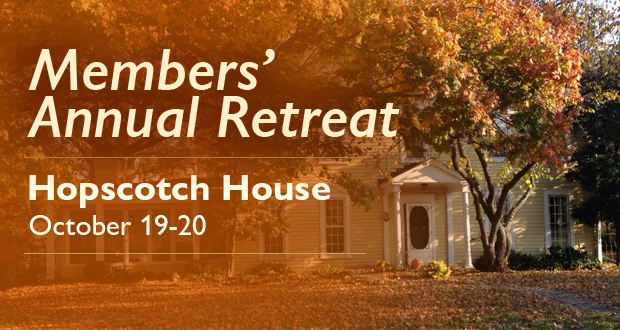 Saturday, October 19 at 10am
until Sunday, October 20 at 3pm
8221 Wolf Pen Branch Road
Louisville, KY 40059
Mark your calendar for October 19th at 10:00 AM – October 20th until 3:00 PM for the Women Who Write's Annual Fall Retreat at the Hopscotch House. This is a MEMBERS ONLY event. Come for a few hours, spend the day, or sign up to stay the night. Accommodations are limited to 9 guests, so register early.
Whether you need to destress, socialize with other writers, or put your head down and work, we encourage our members to come and enjoy the atmosphere.
Please bring a bag lunch for Saturday. Attending members will be asked to bring a dish Saturday dinner. Women Who Write will supply snacks, water, coffee, tea, and breakfast items.
A small donation of $15 per person is required to use the Hopscotch house owned by the Kentucky Foundation for Women. Please pay via PayPal or mail a check to Women Who Write, P.O. Box 6167, Louisville, KY 40206, before the event.
Registration needs to be completed by Monday, October 14, 2019. A Liability form from The Kentucky Foundation for Women will be needed to be completed upon check-in. We look forward to seeing you. Any questions, email info@womenwhowrite.com.
Here's what others are bringing:
Some sort of Soup
Pasta salad
Watergate Salad
Salad
Mushroom risotto—vegetarian/vegan/gluten free
Hashbrown casserole, broccoli casserole, a dessert
Dessert
sloppy joe's
vegetables or salad
Directions to the Hopscotch House:
**A NOTE ABOUT GPS: Not all GPS systems will direct you to the correct driveway. If using GPS, please use it only to direct you the general area and then look for the driveway with mailbox 8221. If you get lost while on the property, please stop where you are and call (502) 439-4486.
Hopscotch House Address:
8221 Wolf Pen Branch Rd
Prospect, KY 40059
From Cincinnati: Take exit I-71 onto I-265 North (Gene Snyder Freeway/Hwy 841) and follow instructions below.
From Lexington: Take exit I-64 onto I-265 North (Gene Snyder Freeway/Hwy 841) and follow instructions below.
From Bowling Green: Take exit I-65 onto I-265 North (Gene Snyder Freeway/Hwy 841) and follow instructions below.
From I-265/Gene Snyder Freeway/Hwy 841: Follow I-265 North until it ends at Hwy 42. Turn left. Go to first stoplight at top of hill and turn left onto Wolf Pen Branch Road and follow directions below.
From Downtown Louisville: Take I-71 north toward Cincinnati to I-264 (Watterson Express). Exit I-264 onto Brownsboro Rd. Turn left onto Brownsboro Rd. pass Holiday Manor shopping center on right, go through the light at Lime Kiln Ln. and head toward Prospect. Go through light at Seminary Drive. Take right at next light onto Wolf Pen Branch Rd.
Once you are on Wolf Pen Branch Rd: Go approximately .5 mile and take a left at the 4-way stop at Green Springs Subdivisionto continue on Wolf Pen Branch Road. Go approximately 1.5 miles, come to stop sign at Wolf Pen Branch and Spring Farm Road; take left to continue on Wolf Pen Branch Road. Follow for .75 of a mile and take a left onto the driveway at 8221 Wolf Pen Branch Rd. Cross the creek, go up hill and follow drive about 1/2 mile. Stay on the paved driveway. If you end up on gravel, you have gone the wrong way! Hopscotch House is the large yellow farmhouse on the right surrounded by black fencing. Park by the front of the house or towards the grass on the carport side.
PLEASE ONLY PARK IN THE CARPORT TO UNLOAD YOUR CAR.
---
Register for the Retreat