Oct 19, 2019 - 10:00 am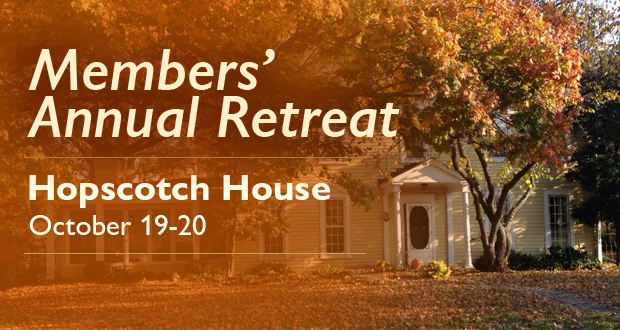 Saturday, October 19 at 10am
until Sunday, October 20 at 3pm
Mark your calendar for October 19th at 10:00 AM – October 20th until 3:00 PM for the Women Who Write's Annual Fall Retreat at the Hopscotch House. This is a MEMBERS ONLY event. Come for a few hours, spend the day, or sign up to stay the night. Accommodations are limited to 9 guests, so register early.
Whether you need to destress, socialize with other writers, or put your head down and work, we encourage our members to come and enjoy the atmosphere.
Please bring a bag lunch for Saturday. Attending members will be asked to bring a dish Saturday dinner. Women Who Write will supply snacks, water, coffee, tea, and breakfast items.
A small donation of $15 per person is required to use the Hopscotch house owned by the Kentucky Foundation for Women. Please pay via PayPal or mail a check to Women Who Write, P.O. Box 6167, Louisville, KY 40206, before the event.
Registration needs to be completed by Monday, October 14, 2019. A Liability form from The Kentucky Foundation for Women will be needed to be completed upon check-in. We look forward to seeing you. Any questions, email .
Here's what others are bringing:
Some sort of Soup
Pasta salad
Watergate Salad
Salad
Mushroom risotto—vegetarian/vegan/gluten free
Hashbrown casserole, broccoli casserole, a dessert
Dessert
sloppy joe's
vegetables or salad
---
Register for the Retreat