Jul 18, 2020 - 9:00 am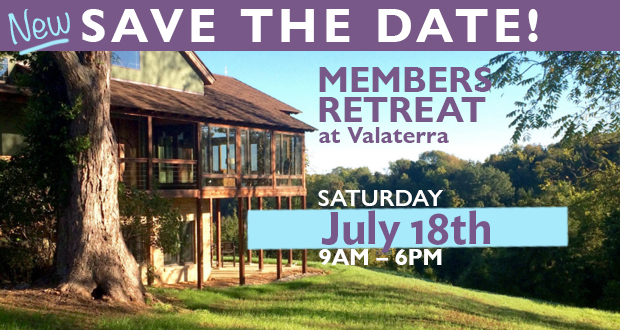 Members' Retreat at Valaterra
Saturday, July 18th
9am – 6pm
Register today for the Valaterra Retreat
Our Writing Retreat at the Valaterra Spiritual Retreat Center in Lagrange, KY is scheduled for Saturday July 18th—9 AM to 6PM. Cautious optimism and the option to cancel for a full refund, or reschedule, guided our decision-making.
The retreat will begin with a panel discussion featuring a panel of women writers from several genres. Participants will then enjoy quiet time to write without distraction, meet with peers to discuss work-in-progress, stretch out to read and nap, or hike the meadow and lane. We'll share a pot-luck meal and a sharing of writing by participants, at the end of our day. Snacks and beverages provided by Women Who Write. No alcohol permitted at this event, except for persons who choose to spend the night for an additional $75.
Cost per person is $20. Register for this event via the website or by checks payable to Women Who Write and send to 1448 St. James Court, Louisville, KY 40208.
Here's what others are bringing to the potluck:
Dessert
individually wrapped pimento cheese sandwiches
salad
TBD