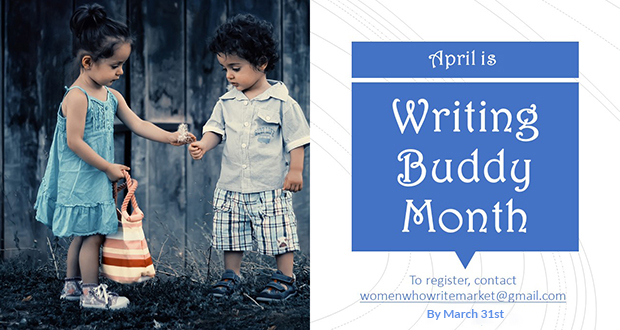 April is Writing Buddy Month!
If you missed out on getting a writing buddy at our March meeting, it's not too late! You can register now and get a writing buddy by our next meeting on April 7th.
Every day, three times a week, or even once a week – you and your Buddy determine the level of writing and reading to which you can commit, but we recommend exchanging work at least once a week!
The rules for reviewing are the same as we have for our readings in the monthly meetings:
Senders: ask for what you need (flow, grammar, believability, consistency or point of view)
Receivers: share your opinion on the piece (what worked, what questions arose)
If solicited, offer suggestions for improving the piece.
Be kind. Be clear.
Make a commitment to write in April and see how far you've come by the first of May. (Hopefully, you'll have something to share at the monthly meeting!)
To register, send an email to:
Include your name, email address, and phone number. We'll pair you with a buddy by April 7th.
March 31 is the Deadline for registration
Note: This is a Members Only project. To become a member Click Here