Long-time WWW member Jeannie Waldridge won first place in a WOW! Women on Writing Winter 2015 flash fiction contest for her piece "The Church Meeting." The genre usually limits the word count to less than a few hundred.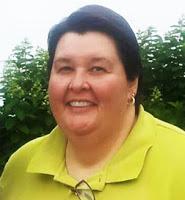 Unlike most writers who need a quiet environment, Jeannie craves chaos. She said, "I like to have noise and activity. If things are too quiet, I find it terribly distracting. I am most content when I write with flash fiction parameters, small word count, and a complete story at the end. Then the story is neatly wrapped up with a bow. I think it has been difficult for me to branch out with my writing style because I love completing the project and moving on to another story."
She is committed to entering contests and improving her writing to be productive. "There are only so many hours in the day, and I tend to get distracted by shiny things. I really do benefit from having a specific challenge or contest to write, or life creeps up and gets in the way," said Jeannie.
The certified alcohol and drug counselor is not afraid of technology. "I am finding the note app on my phone to be a perfect typing medium. I can write a few lines here and there with little fanfare. It is amazing how productive you can be on a smartphone."
A photographer friend provides inspiration. "He has sent me some pictures and asked me to write a story. Those stories are some of my favorites. I really love that process and find that using photos is a great way to start a story. It is amazing where our imagination takes us with just a little snapshot from a moment in time," she said.
Jeannie credits WWW with helping her progress. "There are so many talented writers there. It really pushes you to want to write better. Everyone has different styles so the feedback helps you look at your piece from different perspectives."
Jeannie said everyone should enter a contest at least once every six months. "Of course, once a quarter is even better if you are entering the WOW contest. It is a great way to keep us all writing and sharing our talents," she said. "If there is a critique available, it is worth the investment to get the feedback."
She has some advice for other writers. "Join a writing group [for] feedback and support on a regular basis. It never hurts to have a little input before you hit the submit button. Who knows, you just might win."
See Marcia Peterson's full story on Jeannie at the Women On Writing website.