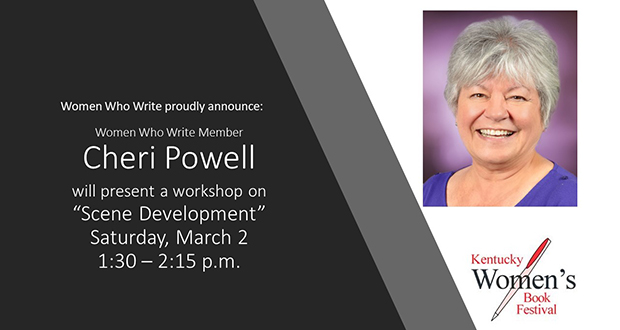 Women Who Write member Cheri Powell will present "Scene Development," a workshop that will take a look at what constitutes a well-written scene. Participants will delve into scene structure and learn how to use a tool to analyze existing scenes. The same tool can be used to plan scenes and maximize your writing effort.
The session will be held Saturday, March 2nd from 1:30-2:15 p.m. at the Brandeis School of Law on University of Louisville's Belknap Campus immediately following the 13th Kentucky Women's Book Festival.
Cheri Powell received her undergraduate degree in marketing from the University of Louisville and her MBA from Thunderbird School of Global Management. She has successfully marketed her book Seven Tips to Make the Most of the Camino de Santiago to a worldwide market. She gives classes and webinars on marketing to help others do the same. To contact Cheri, email her at .
For more information on the Kentucky Women's Book Festival, please Click Here or visit their website at https://louisville.edu/womenscenter/our-programs/kwbf