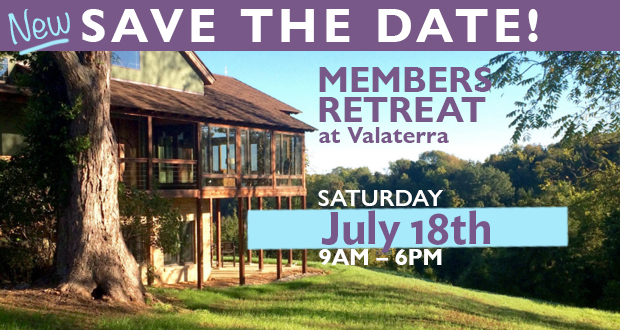 Members' Retreat at Valaterra
Saturday, July 18th
9am – 6pm
Our Writing Retreat at the Valaterra Spiritual Retreat Center in Lagrange, KY is scheduled for Saturday July 18th—9 AM to 6PM.
The retreat will begin with a panel discussion featuring a panel of women writers from several genres. Participants will then enjoy quiet time to write without distraction, meet with peers to discuss work-in-progress, stretch out to read and nap, or hike the meadow and lane. We'll share writing by participants, at the end of our day.
Cost per person is $20. Register for this event via the website or by checks payable to Women Who Write and send to 3017 Beals Branch Dr., Louisville, KY 40206.
We have decided to host this in-person gathering to bring our community together. The retreat center follows CDC guidelines to the letter.
Valaterra is immaculate, spacious, has an open floor plan and a beautiful conference room in a walk-out basement. There is an outdoor patio with seating. Lots of tables and writing spaces. See photos here.
Here is how we'll keep ourselves safe:
We have suspended the overnight option.

We will take temperatures upon arrival.

We will bring our own lunches (instead of a potluck).

WWW will provide individually wrapped snacks and beverages.

We will observe social distancing and masks while inside.

We will wear masks under the following conditions:

When we are within 9 feet of another person inside.

When we are sharing our work with peers gathered in a socially distanced circle. An exception is made for the person reading their work.
While writing, participants will NOT have to wear masks. Writing spaces will be distance 9 feet apart to ensure more than adequate distance.
Members who have pre-existing conditions, are immunocompromised or reluctant to join us are welcome to tune in to our Zoom video conference with Ellen Birkett Morris for no charge.