Apr 1, 2017 | 8:30 am - 4:00 pm
Register now using the form below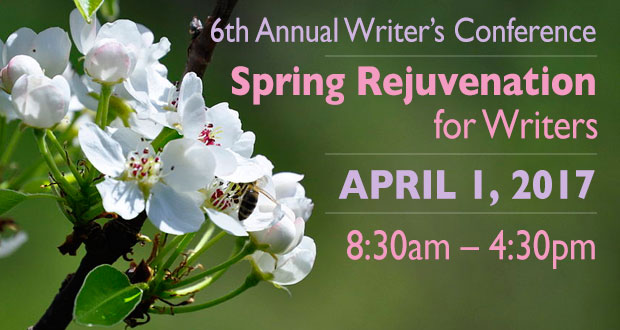 Mark your calendar for April 1, 2017, for the sixth annual Women Who Write writer's conference, Spring Rejuvenation for Writers. We're taking a different approach this year and making the event more interactive. Bring your current project, laptop, notes, and imagination. We will provide a quiet place for you to receive new inspiration. Not working on a project right now? No problem. We will have writing prompts to stimulate your mind and opportunities to talk with other writers who are published and not-quite-published.
Participants will also have an opportunity to connect with nature and nourish their souls. The event is being held at the Purdue Research Park of Southeast Indiana, Purdue Polytechnic New Albany, which is located on 44-acres at 3000 Technology Avenue, New Albany, IN 47150. There will be a lunchtime tour of the property, explaining the preserve's unique characteristics. You may also explore it on your own at your leisure. The natural setting has a 1¼-mile walking trail, four ponds, and native plantings.
The office building offers many small conference rooms, which will be available for you to settle in and do some writing. Wi-Fi is available.
There will be two structured classes included in the event fee. Nancy Gall-Clayton will help you perfect your dialogue. Deirdre Scaggs will show you how to research your family tree through recipes.
Lunch will be catered and is included in your event fee.
Reserve your spot now. Space is limited to the first 50 who register. A waiting list is available if others beat you to it.
Schedule of Events
8:30-9:00 a.m. Registration, Continental Breakfast and Icebreaker
Workshop 1:
9:00-10:30 a.m.  Let's Talk: Writing Dialogue across the Genres with award winning playwright Nancy Gall-Clayton. Optional pre-workshop assignment
10:45-11:45 a.m. Choose: Prompt/Write in small groups or Independent Writing Time
12:00-12:30 p.m. Choose: Guided Research Center Tour or Independent Writing Time
12:30- 1:00 p.m.  Lunch included with your registration fee. Please register by March 30th to be included in the lunch order.
Workshop 2:
1:00-2:30 p.m. From the Historic Kitchen to Yours: Crafting a Personal Narrative from Family Recipes with Lexington Author Deirdre Scaggs. Optional pre-workshop assignment.
2:30-3:30 p.m. Choose: Prompt/Write in small groups or Independent Writing Time or Editing Your Piece – Meet with a WWW professional for a ten-minute critique.
3:30-4:30 p.m. Wine and Cheese Closing Reception to include two-page readings from conference participants. Sign-ups will take place during the conference.
Registration