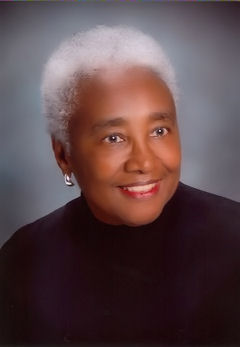 It is with sorrow we bring you the news of the passing of our co-founder Carridder (Rita) Jones. Researcher, author and playwright, Rita was an inspiration to all women who aspire to write.
Due the impact of the Coronavirus, the family has not reached a decision regarding a memorial service. We encourage all Women Who Write members to share a memory of Rita at our next meeting and/or contribute memories to her memorial website at: https://www.forevermissed.com/carridder-rita-jones/about
Here's an excellent tribute by writer Ellen Birkett Morris on Carrider Jones, posted on the Kentucky Foundation for Women website, including information about WWW:
Carridder "Rita" Jones (1935-2020) Gave Women Tools to Transform Their Lives
Carridder "Rita" Jones, 84, of Henderson, Nevada transitioned Friday, May 8th, 2020 at Saint Rose Dominican Sienna Hospital. 
Born in the South, she was raised on a small farm near the cotton and tobacco fields of Timmonsville, South Carolina. As a young girl, her love of reading began the day she attended the county's three-room schoolhouse (built for children of freed slaves). After high school, she married Albert Jones and began to raise a family and travel. Her love of reading led to a major in English and Theatre Arts at the University of Louisville where she blossomed into a historical researcher and writer.
Sharing her love and talent for writing, Carridder co-founded Women Who Write, an organization started at the University of Louisville Women's Center in Louisville, Kentucky for women writers. 
Rita was a playwright and a published writer.  Her plays were produced at Actors Theatre of Louisville, The Kentucky Center for the Arts Mex Theatre, University of Louisville Theatre and the Market House Theatre in Paducah, Kentucky. 
Society. One of her plays, "The Mark of Cain," was chosen by the University of Louisville's African American theater program for the Second Annual Juneteenth Festival of New Works. 
Throughout her career as an established author and playwright, she presented her research and writings at conferences, programs, workshops, and productions. 
Her parents were the late John & Esther (Lewis) Mashack.
She is survived by her children; Elizabeth DeRamus (William), Gwendolyn Hollins (Lawrence), Mark Jones (Carolyn), Anthony Jones (Jennifer) and Linda Hale (Jerry), grandchildren; Alexandra, Corry, William, Andrea, Brandy and Kailea and great grandchildren; Jordan and Derrell.
She was preceded in death by her husband Albert Jones, daughter Selina Griffith and sisters, Flossie M. Hickerson and Annie Dell McIntosh.