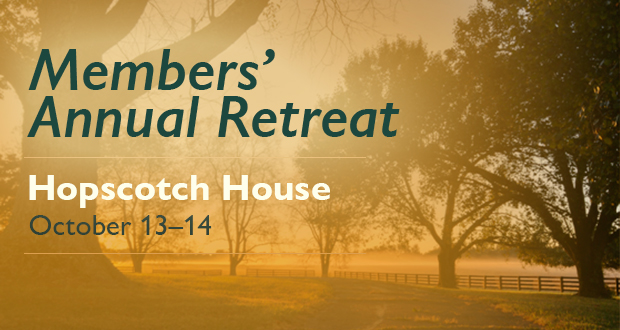 Join us at the Women Who Write's Annual Fall Retreat at the Hopscotch House on Saturday, October 13th at 10 am thru Sunday, October 14th at 3pm. Come for a few hours, spend the day, or register as an overnight guest (accommodations are limited to 9 guests). Bring your writing project, enjoy the outdoors, and socialize with old and new friends who share your same interest. This is a MEMBERS ONLY event.
Please bring either a breakfast item or side dish to be shared for a pot luck dinner, and a bag lunch if you would like. Platters of fried chicken will be provided for dinner by WWW.
Fifteen dollars will be collected at the time of registration by Women Who Write as a donation to the Kentucky Foundation for Women as a thank you for the use of their beautiful house and grounds. Payment may be made by Pay Pal, or mail a check to Women Who Write, P.O. Box 6167, Louisville, KY 40206.
Please complete the registration by Monday, October 8, 2018. A Liability form from The Kentucky Foundation for Women will be needed to be completed upon check-in. We look forward to seeing you. Any questions, email info@womenwhowrite.com.
SIGN UP FOR THE RETREAT
The Hopscotch House Retreat and Residency Center is located at 8221 Wolf Pen Branch Road, Louisville, KY 40059. Directions and General Information is attached. For questions on the days of the retreat, you may contact Diane Cruze at 502-387-1919.
---
DIRECTIONS TO HOPSCOTCH HOUSE
**A NOTE ABOUT GPS: Not all GPS systems will direct you to the correct driveway. If
using GPS, please use it only to direct you the general area and then look for the
driveway with mailbox 8221. If you get lost while on the property, please stop where you
are and call (502) 439-4486.
Hopscotch House Address:
8221 Wolf Pen Branch Rd
Prospect, KY 40059
From Lexington:
Take exit I-64 onto I-265 North (Gene Snyder Freeway/Hwy 841) and follow instructions
below.
From Downtown Louisville:
Take I-71 north toward Cincinnati to I-264 (Watterson Express)
Exit I-264 onto Brownsboro Rd. Turn left onto Brownsboro Rd. pass Holiday Manor
shopping center on right, go through the light at Lime Kiln Ln. and head toward
Prospect.
Go through light at Seminary Drive.
Take right at next light onto Wolf Pen Branch Rd.
Once you are on Wolf Pen Branch Rd:
Go approximately .5 mile and take a left at the 4-way stop at Green Springs Subdivision
to continue on Wolf Pen Branch Road.
Go approximately 1.5 miles, come to stop sign at Wolf Pen Branch and Spring Farm
Road; take left to continue on Wolf Pen Branch Road. Follow for .75 of a mile and take
a left onto the driveway at 8221 Wolf Pen Branch Rd.
Cross the creek, go up hill and follow drive about 1/2 mile. Stay on the paved driveway.
If you end up on gravel, you have gone the wrong way! Hopscotch House is the large
yellow farmhouse on the right surrounded by black fencing. Park by the front of the
house or towards the grass on the carport side. PLEASE ONLY PARK IN THE
CARPORT TO UNLOAD YOUR CAR.
SIGN UP FOR THE RETREAT