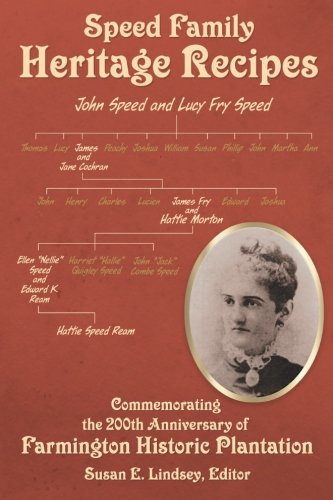 Three Women Who Write members—Peggy Grimes, Cheri Powell, and Susan Lindsey—recently helped produce a new fundraising cookbook for Farmington Historic Plantation in Louisville. Speed Family Heritage Recipes is currently available on Amazon.com.
Working in conjunction with the project sponsor, Corn Island Chapter, National Society Daughters of the American Revolution, they helped transformed a stack of heritage recipes into a delightful cookbook.
The recipes—many of them well over 100 years old—were collected by Nell Speed Ream, the great-granddaughter of John Speed, who built Farmington. One of Nell Speed Ream's descendants recently offered use of the recipes to Farmington. Volunteer test cooks had to figure out things such as how hot is a "low oven" and how much butter is "the size of a walnut" in order to update the recipes for modern cooks.
Among the recipes in the book are salt-rising bread, transparent pie, fritters, and eggnog served by James Speed during his term as attorney general in Lincoln's second administration. The book also includes a short history of Farmington and brief profiles of the women who developed and served these dishes so long ago. Local author David Dominé contributed the foreword and historian/former city council member Tom Owen penned the afterward.