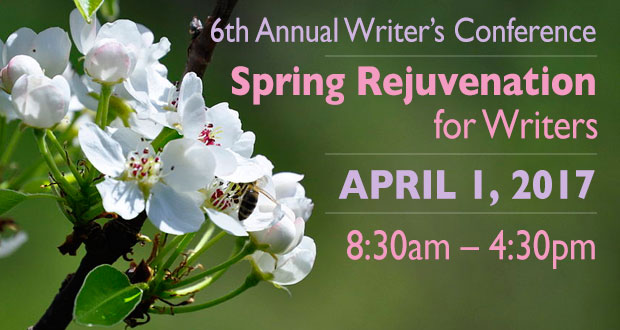 REGISTER NOW
Mark your calendar for April 1, 2017, for the sixth annual Women Who Write writer's conference, Spring Rejuvenation for Writers. We're taking a different approach this year and making the event more interactive. Bring your current project, laptop, notes, and imagination. We will provide a quiet place for you to receive new inspiration. Not working on a project right now? No problem. We will have writing prompts to stimulate your mind and opportunities to talk with other writers who are published and not-quite-published.
Participants will also have an opportunity to connect with nature and nourish their souls. The event is being held at the Purdue Research Park of Southeast Indiana, Purdue Polytechnic New Albany, which is located on 44-acres at 3000 Technology Avenue, New Albany, IN 47150. There will be a lunchtime tour of the property, explaining the preserve's unique characteristics. You may also explore it on your own at your leisure. The natural setting has a 1¼-mile walking trail, four ponds, and native plantings.
The office building offers many small conference rooms, which will be available for you to settle in and do some writing. Wi-Fi is available.
There will be two structured classes included in the event fee. Nancy Gall-Clayton will help you perfect your dialogue. Deirdre Scaggs will show you how to research your family tree through recipes.
Lunch will be catered and is included in your event fee.
Reserve your spot now. Space is limited to the first 50 who register. A waiting list is available if others beat you to it.
Venue
3000 Technology Avenue
New Albany, IN 47150
Wi-Fi available
Date
Sat., April 1, 2017, 8:30 a.m. to 4:30 p.m.
Schedule of Events
8:30-9:00 a.m. Registration, Continental Breakfast and Icebreaker
Workshop 1:
9:00-10:30 a.m.  Let's Talk: Writing Dialogue across the Genres with award winning playwright Nancy Gall-Clayton. Optional pre-workshop assignment
10:45-11:45 a.m. Choose: Prompt/Write in small groups or Independent Writing Time
12:00-12:30 p.m. Choose: Guided Research Center Tour or Independent Writing Time
12:30- 1:00 p.m.  Lunch included with your registration fee. Please register by March 30th to be included in the lunch order.
Workshop 2:
1:00-2:30 p.m. From the Historic Kitchen to Yours: Crafting a Personal Narrative from Family Recipes with Lexington Author Deirdre Scaggs. Optional pre-workshop assignment.
2:30-3:30 p.m. Choose: Prompt/Write in small groups or Independent Writing Time or Editing Your Piece – Meet with a WWW professional for a ten-minute critique.
3:30-4:30 p.m. Wine and Cheese Closing Reception to include two-page readings from conference participants. Sign-ups will take place during the conference.
Cost
$40 – Women Who Write Members
$45 – Non-members
Workshop 1
Let's Talk: Writing Dialogue Across Genres
Nancy Gall-Clayton
Workshop description:
Dialogue is an essential part of fiction and memoir writing. When done well, it will make a scene sparkle, relay a point, and move the story forward. When done poorly, writing suffers. This workshop will explore the techniques for doing dialogue well no matter your genre.

Optional Advance Assignments:
Conflict: Think about something you are writing or planning to write. Choose two people/characters who disagree about something. It may be as trivial as whether to get the oil changed today or tomorrow or as momentous as deciding to move or have a baby. Write at least one line of dialogue from each character as they discuss the issue.

Eavesdrop:
As accurately as possible, jot down a couple lines of strangers' dialogue overheard in a grocery line or while you are trying on shoes, waiting for the elf to take your child to Santa, or walking on the Big Four Bridge. Bring the lines with you. We will analyze them and perhaps be inspired.
Bio:
Nancy Gall-Clayton is best known as someone who tells stories using nothing but dialogue. However, in addition to plays, she has utilized dialogue in her fiction and non-fiction work. Last year, the Looking for Lilith Theatre Company commissioned her to write I'm Wearing My Own Clothes!, a play inspired by the life of a female physician during the Civil War. Nancy belongs to the Cherokee Roundtable, Dramatists Guild, and International Centre for Women Playwrights.
Workshop 2
From the Historic Kitchen to Yours: Crafting a Personal Narrative from Family Recipes.
Deirdre A. Scaggs
Workshop description:
Food unites us. Sharing meals around a table is an activity that creates memories, carries on tradition, and demonstrates customs from around the world. Explore what your family recipes reveal about the traditions in your family and culture. You will explore techniques for researching recipes and delve into the significance of putting your food memories in print. By the end of the workshop, participants will gain information about the cookbook research and writing process and create a personal narrative about a family recipe.

Optional Advance Assignment:
Participants should bring in a meaningful recipe and gather the following information as possible:
Who does the recipe belong to, and what is his or her relationship to you?
How old is the recipe?
Does this recipe bring about specific memories or feelings? If yes, please jot down some notes.
When would this recipe be made?
Do you make this recipe now?
Bio:
Deirdre A. Scaggs is an archivist, gardener, dinner party host, and photographer. She is also the Associate Dean of the Special Collections Research Center and Director of the Wendell H. Ford Public Policy Research Center at the University of Kentucky Libraries. She holds a Master's of Library and Information Science from the University of Pittsburgh and a Master's of Fine Arts from The Ohio State University. Deirdre is the author of The Historic Kentucky Kitchen: Traditional Recipes for Today's Cook and Women in Lexington, a pictorial history of everyday and notable women. Katherine J. Black also published sixty of her photographs in Row by Row: Talking with Kentucky Gardeners. From rural Kentucky, where her grandmother cooked without recipes, Deirdre learned the importance of shared meals, tradition, canning vegetables, and bacon grease. She currently lives in Lexington, Kentucky with her son Dean.
REGISTER NOW