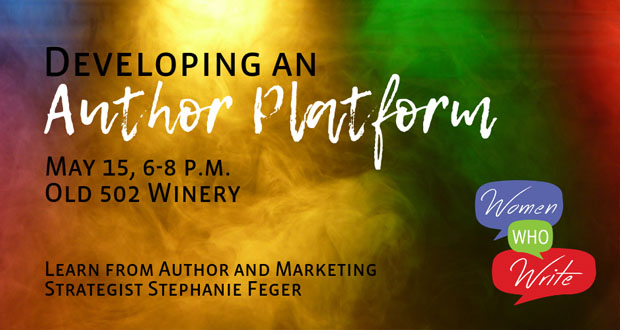 Developing Your Author Platform
A workshop presented by Women Who Write featuring author and marketing strategist Stephanie Feger
What is an author platform? Do I need one? How do I build one? I have so many questions!
If you're like many writers hoping to be published, you may have been asked about your platform by literary agents and publishers. It's a topic of increasing interest in the industry and a source of bafflement to fledgling authors.
At Women Who Write, our goal is to encourage, support, and educate all women who aspire to write. Therefore, we are proud to present a writer's workshop on Developing Your Author Platform.
Stephanie Feger, author and marketing strategist, will address the concept of an author's platform and why it's important as well as the basics of building one and strategies to increase your visibility. Visit Stephanie's sites to learn more about her:
The workshop is open to everyone who aspires to write but space is limited and registration is required.
See below for details.
Workshop: Developing an Author Platform
When:
Wednesday May 15 6:00 – 8:00 p.m.
6:00 p.m. wine tasting ($5 for 3 wines)
6:30-8:00 writer workshop
Where:
Old 502 Winery, 120 S. 10th Street, Louisville, KY 40202
Fees:
Member: $20
Non-Member: $30
Advance payments only, No refunds
REGISTER NOW