By Melissa Uhl Draut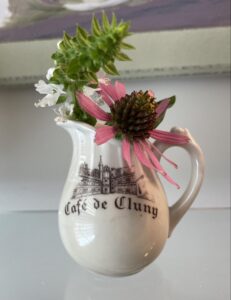 Photograph by Melissa Uhl Draut
On my bathroom shelf sits a two-and-a-half-inch cream colored Limoges pitcher with a sepia image of the Café de Cluny in Paris — a gift from my French teacher Miss Ridge when I was an elementary school student. Only Miss Ridge could pick out something so lovely and practical. It's one of the few objects I have kept from my childhood. And unlike some objects tucked away in a drawer, I still use this little pitcher to hold a nosegay of flowers, herbs, or greenery.
Rewind to 1968 when I was in fourth grade. My brother Nick was in third and he had the privilege of getting the new, young, and modern teacher Miss Ridge. She had long, straight red hair, and freckles, and could rock the standard gray jumper and white blouse in such a way that it didn't look like the Catholic school teacher's uniform, and nowhere near the black habits that the nuns wore at that time. She had a welcoming smile and style to match.
My mother got to know Miss Ridge through conferences which might have been more frequent for my brother since he was a known handful. While I was the responsible, older child, he rang true as a middle-child rebel, and my sister, four years younger, was the baby we all adored. Luckily, Miss Ridge knew how to handle all kinds of learners.
Miss Ridge was also an artist and fluent in French. Since she was teaching at a Catholic school and a new college graduate, she was not making much money judging by the fact she was living at her parents' house. She offered to teach French lessons to individual students after school, and my mother signed me up. Perhaps she sensed that I could use some attention. Nick was always the center of attention (aka "in trouble") and I loved school and learning. My mother, also the oldest child, went to work after high school to help support her family. Perhaps she wanted to give her daughter the educational enrichment that she didn't get.
I loved getting a half hour or so of time with just Miss Ridge after school. I still can remember this little notebook with a flowery pastel cover where we wrote the words in French and in English. Having this modern young woman pay attention to me was wonderful. I felt a little bit put out when I discovered that Rose Elpers, a classmate, was going to be joining me in the French lessons. But sharing Miss Ridge was better than no Miss Ridge.
Miss Ridge did cool things. A group of us – including my brother – got to go to a local television station where she was demonstrating an art project for an educational segment. We were her on-set students. In the summer, she had an art camp for students in her parents' backyard and basement. Despite having to share her with the neighborhood kids, I loved getting to do art projects with her.
Her teaching time was short – maybe two years. One of those summers, she went to Paris and brought me the Café de Cluny souvenir pitcher – such a prized possession! After she left the school, we kept in touch through occasional letters. It was always a joyful day when I received her letter– seeing her familiar handwriting that had printed the French words in my notebook. In a scrapbook, I kept one of her letters that she drew in cartoons picturing a day in her life in some big city (that I don't recall). She drew a picture of herself in a pottery studio, walking city streets to work and other activities. She had a busy and exciting life and I was thrilled that she would share it with me.
My Miss Ridge became well known as Carlton Ridge, the designer and founder of Sutton Hoojewelry, carried in museum stores and exclusive shops worldwide. We loosely kept in touch throughout the years – sometimes my mom and I would see her at a local museum or art event. She died in 2015 at 69 years old. Her obituary photo, probably taken in her sixties, features her welcoming smile and her stylish look. Katharine Ridge Obituary – Louisville, KY – Courier-Journal (legacy.com)  
I now realize how thoughtful she was to share her experiences with a young fan from home. Miss Ridge made me feel special, and perhaps she appreciated my eagerness to learn from her. She taught me how little things – from a welcoming smile, encouraging a young person or a souvenir pitcher – can make such a memorable difference.